!Mount Monadnock State Park is located in Jaffrey, New Hampshire. The park offers camping and miles of scenic trails.">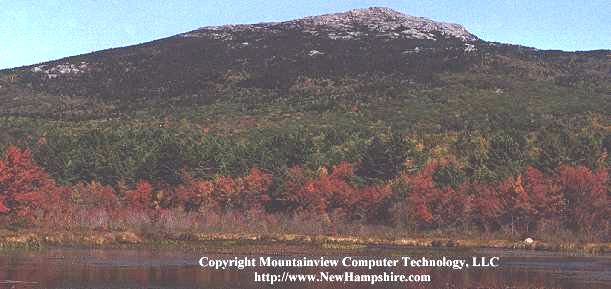 View from Perkins Pond
Visit Monadnock State Park
Jaffrey, NH
phone 603-532-8862 for information

---
Mount Monadnock is an easy drive from any place in Southern New England. Located in South-Western New Hampshire. This is indeed the"most climbed mountain in the world." Phone the Monadnock State Park before you come up and they will provide you with details. You should bring ample water and a compass. You can get a free map of Monadnock at the park headquarters.

If this is your first time on the mountain. I suggest you climb the trail that is located at the state park headquarters. There are many other trails, including the splendid ( and lightly traveled trails) that go right around the mountain. My favorite trail is located on Shaker Road* and is known as the "Marlborough Trail" Expect to take about 1.5 hours to reach the top of Mount Monadnock if you are in good shape. However, if you really want to enjoy the climb, take you time. Start out climbing by 10 AM (9 AM is better if you wish to "avoid the rush.") Those who bring two cars may want to park at two different trails. Then you can climb on one trail and climb back down on another. Expect the temperature to be about ten to fifteen degrees cooler on top than at the bottom.

Shaker road is named for the shaker community that lived along the road between about 1800 and 1850. The cellar holes of the shaker community are still visible. This group of shakers were an offshoot of the Shirley Massachusetts shakers.
---
Want your own web site? look at
http://www.new-hampshire.net
7/1/04